Intelligent drying
AI Control
Dry laundry easily and effectively with AI Control. It personalizes drying by remembering your habits, suggesting cycles and displaying timely information. A SmartThings App* provides advice on cycles, planning and troubleshooting. And it selects the perfect drying course for a wash cycle**.
* Available on Android and iOS devices. A Wi-Fi connection and a Samsung account are required.
** Available when a dryer is turned on during or within a specific time after a wash cycle, and when both the washer and dryer are registered in the SmartThings App and set as being in the same location. Only available on certain models: WF2*T******/WF1*T****** (washer) linked with DV1*T****** (dryer).※Images shown may differ from actual product.※Mobile GUI images may vary by country, environment, etc.
*** Product color may vary from the images shown.
Dry more, dry bigger
16kg Big Capacity
Save considerable time and effort with a huge 16kg capacity. It means you can dry many more laundry items at once – over 4 laundry baskets full of clothes* in one load! And it can also hold very large items, like a super king-sized comforter. So you can complete your laundry much more easily.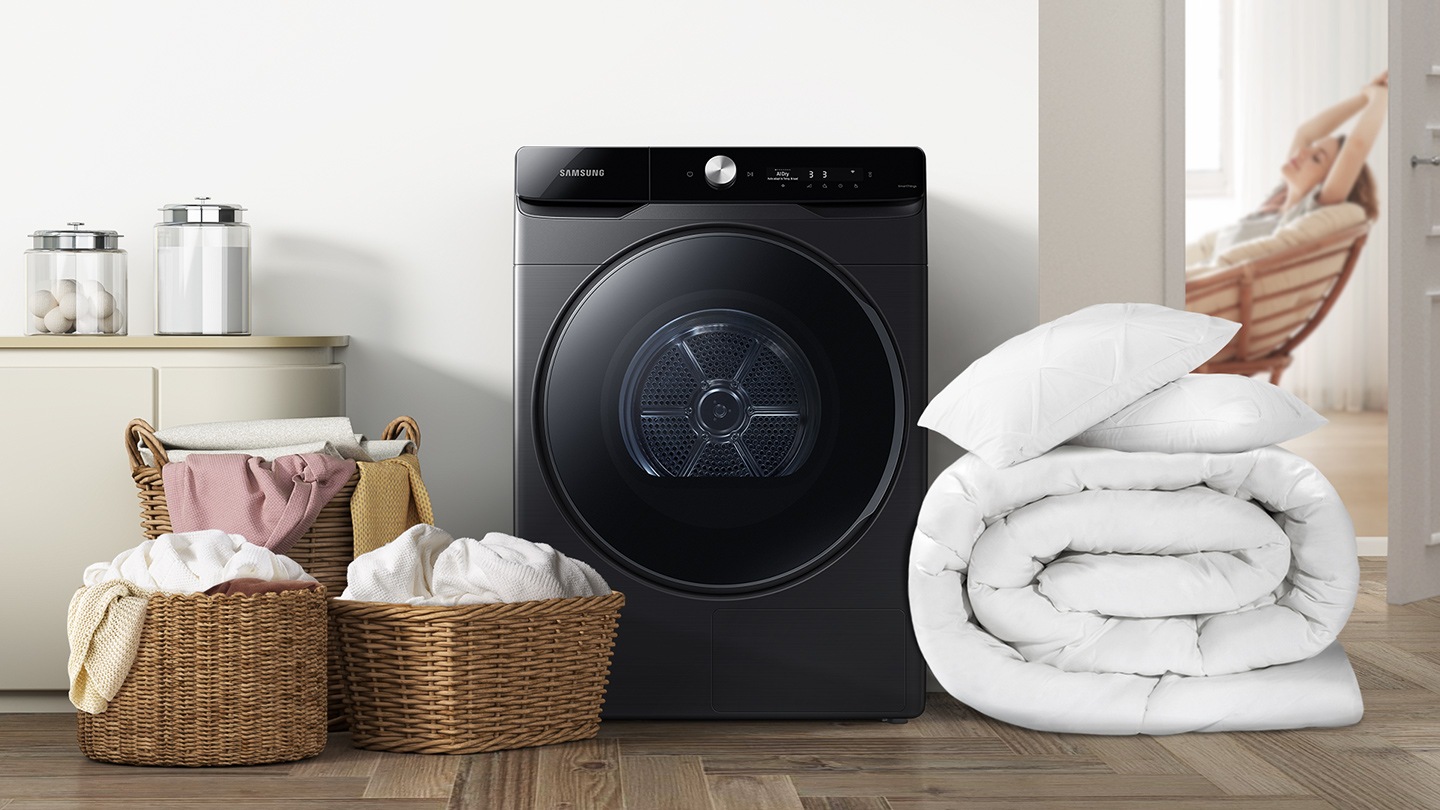 * 1 load normally weighs 8lbs (3.6kg).
99.9% sanitization*
Hygiene Care +
Prevent the build-up of bacteria, mites and allergens on clothes, linen and soft toys. Hygiene Care + sanitizes both dry and wet items* without affecting the drying performance. By infusing them with high temperature heat it eliminates 95% of pollen, 100% of dust mites, and 99.9% of bacteria**.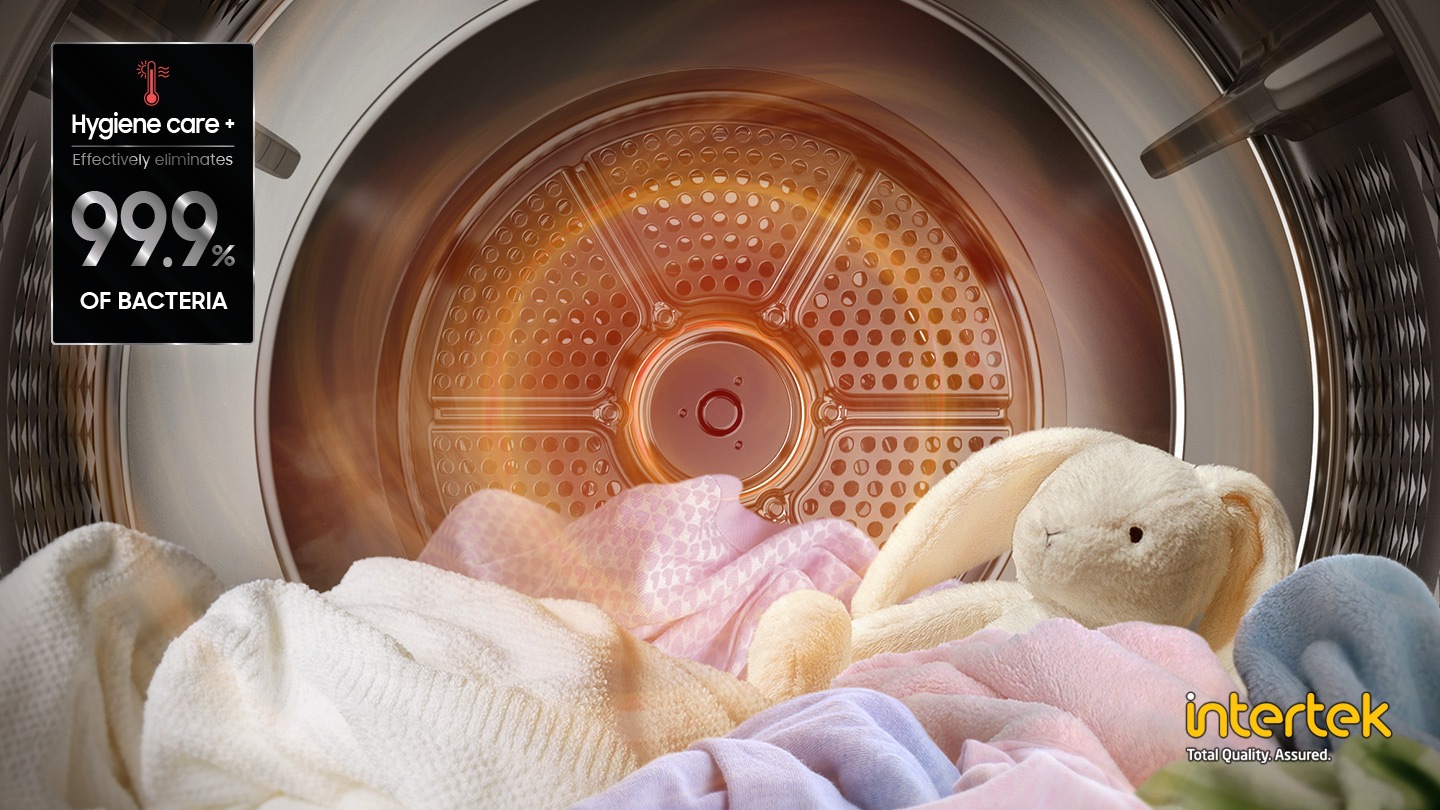 * 4kg dried laundry or 6kg wet laundry.
** Eliminates over 95% of pollen, including Birch, grass, Japanese Cedar and Ragweed, 100% of dust mites (Dermatophagoides farinae), and 99.9% of certain bacteria, including Staphylococcus aureus, Bacillus pyocyaneus and Escherichia coli. Based on independent testing conducted or verified by Intertek. Individual results may vary depending on the actual usage conditions.
Opens how you want
Reversible Door
Choose the direction that the reversible door opens to suit the layout of your home. Simply change which side it opens to fit the location, what's around it and how you do things. It also means that walls won't get in the way!
Minimize lint
3 Layered Filter System
Reduce dust on clothes and maintain the dryer in the best condition with a 3 Layered Filter System. It captures the dust and fibers that come off drying clothes very effectively, twice with a 2-in-1 filter under the drum and a third time with a micro soft filter* in front of the Heat Exchanger.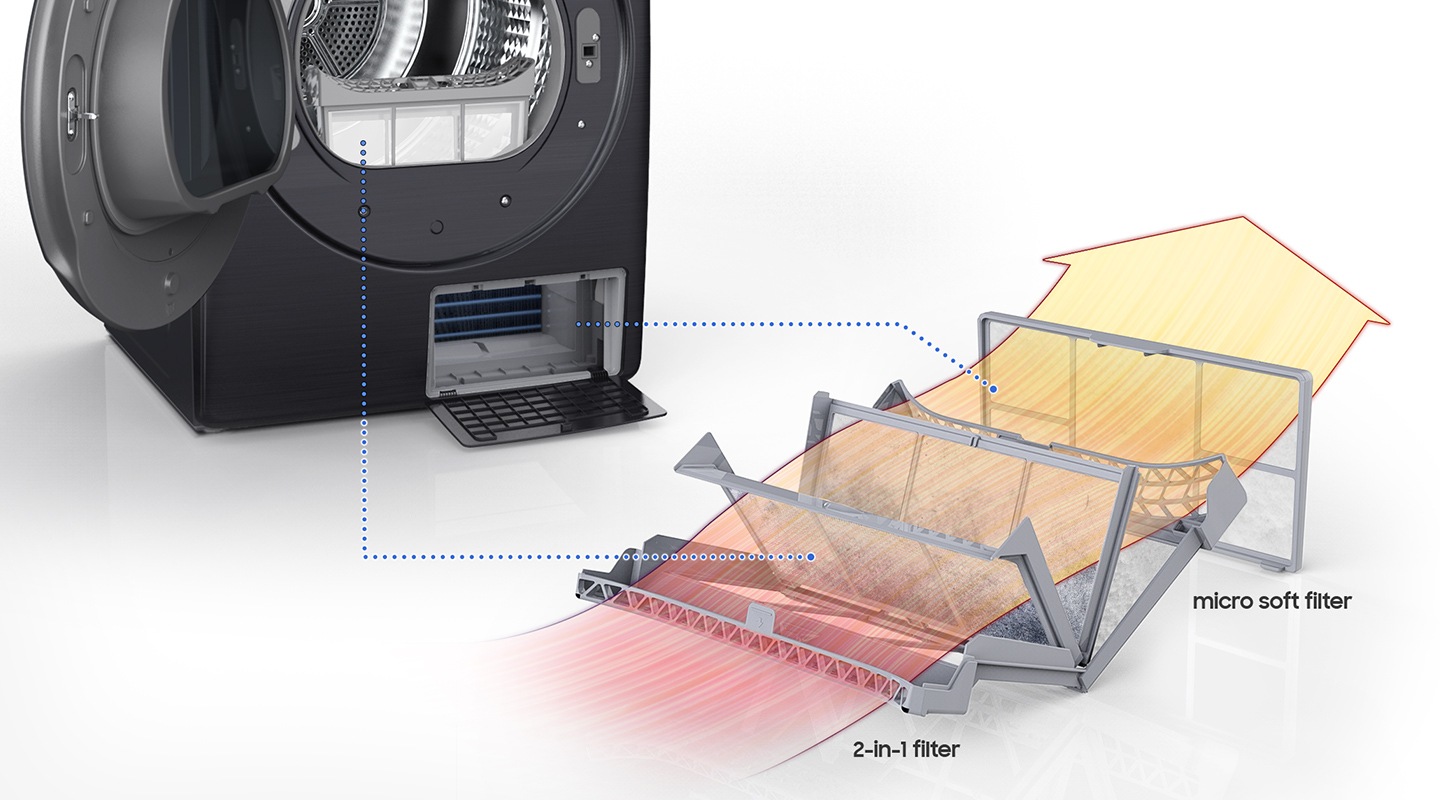 Dries evenly
360 Airhole
Make sure that every item is dried thoroughly, wherever it is in the drum. The ventilation system features a circle of 360 holes that improve the air circulation and evenly distribute a large volume of air in every direction. So it dries everything really effectively throughout the whole drum.
Convenient control
Remote Control
Control your dryer more easily with a remote control, especially if it's stacked on a washer and the controls are hard to reach. It also has a button to turn on the drum light, so you can clearly see inside when taking out clothes. And, as it's magnetic, you can attach it anywhere on the dryer.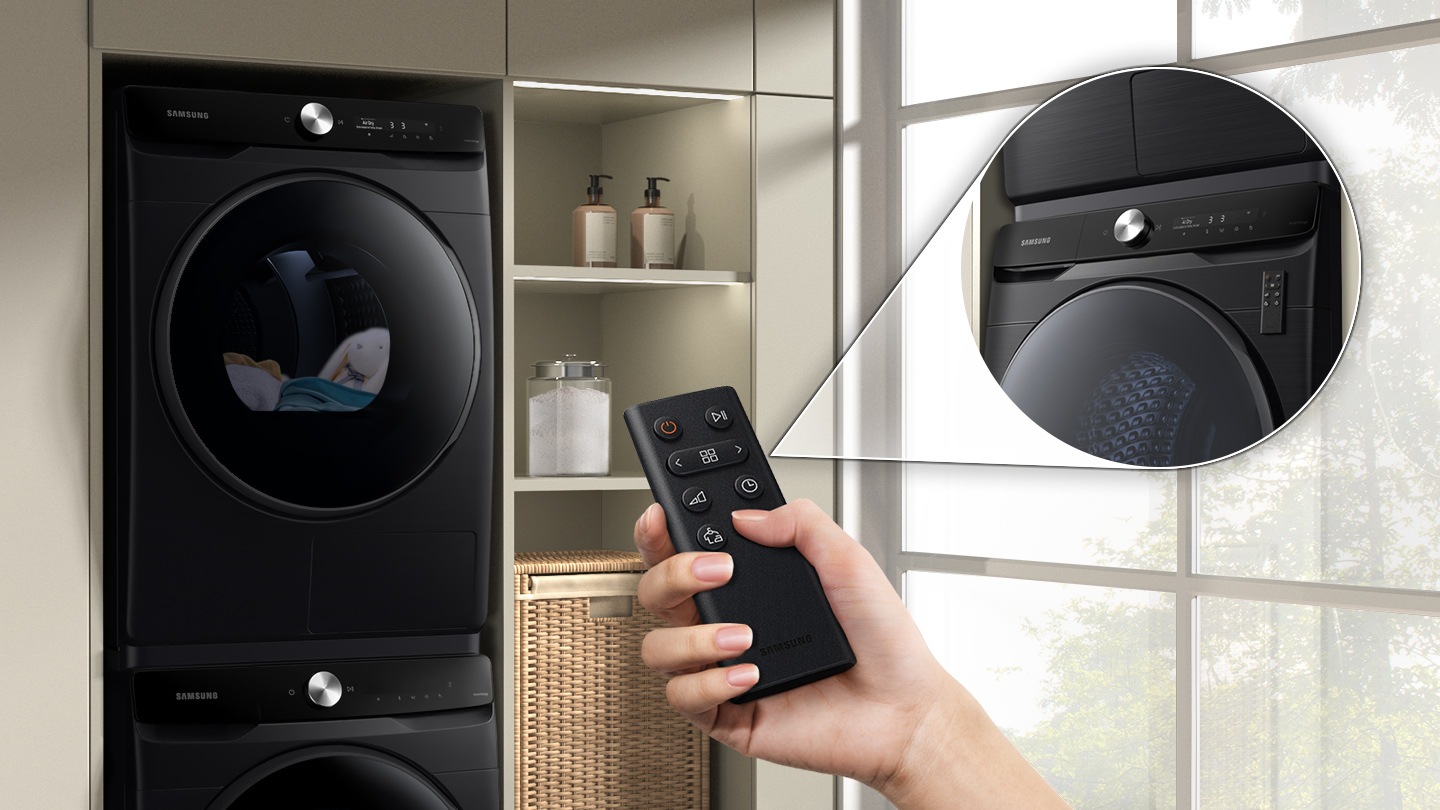 Specifications
Energy Efficiency Class

5 Star

Physical specification

686 x 984 x 844 
Specifications Detail
Design
Body color

Black Caviar

Door

Tint Door

Panel Display

LCD (Simple UX)
Performance
Type of Dryer

Hybrid Heatpump

Energy Efficiency Class

5 Star

Compressor

Inverter (11.3cc)

Noise Level (Dry)

63 dB
Feature
AI Control

Yes

All-In-One Control

No

AI Pattern

Yes

Interior Drum Light

Yes

Heatpump Drying

Yes

Smart Control

Yes

Reversible Door

Yes

Child Lock

Yes

3rd Filter Alarm

Yes

Alarm

Yes

Damp Alert

Yes

Language Setting

Yes

Remote Control

Yes

Door Lock

Yes

Drum type

Diamond

Dry Level

4 Level (1/2/3/4)

Drying Rack

Yes

Drying Time selector

Yes

Filter Check Indicator

Yes

My Cycle

Yes

Water Container Full Indicator

Yes

Wrinkle Prevent

Yes

Smart Things

Yes
Cycle
AI Dry

Yes

Air Bedding Care

Yes

Cool Air

Yes

Quick Dry

Yes

Self Tub Dry

Yes

Time Dry

Yes

Towels

Yes

Rack Dry

Yes

Wool

Yes

Option List

Dry Level, Wrinkle Prevent, Dry Time

Bedding

Yes

Cotton

Yes

Delicates

Yes

Down Jacket Care

Yes

Outdoor Care

Yes

Shirts

Yes

Synthetics

Yes

Hygiene Care+

Yes
Physical specification
Net Dimension (WxHxD, mm)

686 x 984 x 844 

Net Weight (kg)

74 

Voltage/Frequency

230V/50Hz

Power Resource

Electric

Drum Material

Stainless Steel
App Connectivity
SmartThings App Support

Yes