Highlights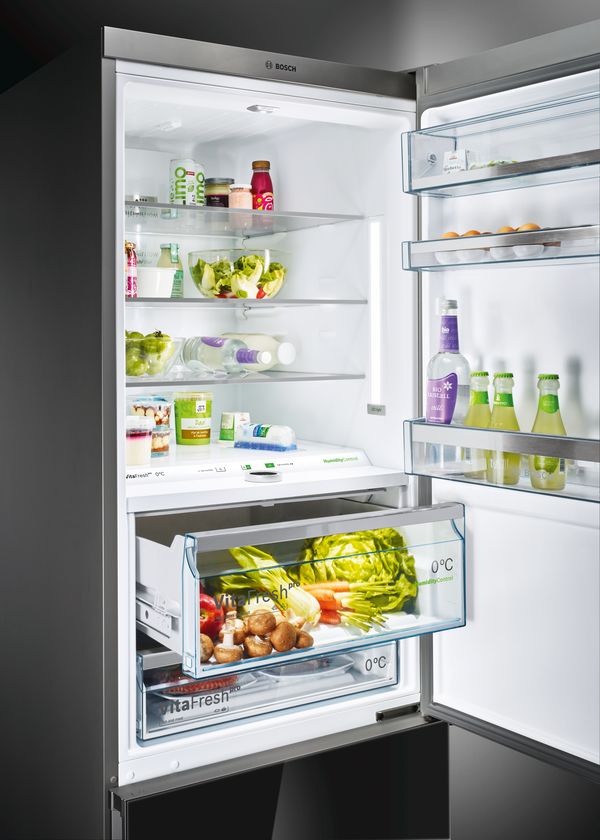 Keeps the contents of your fridge in the spotlight.
LED lights bring a completely new lighting concept to fridges, guaranteeing even, glare-free interior illumination. LED lights use less electricity than conventional fridge bulbs and last for the entire life of the appliance.
Full flexibility in the freezer area.
You can remove all the safety glass shelves in the freezer area really easily to create more space – to store a multi-level cake, for example, or a whole turkey. Large foods such as a family-sized pizza can be stacked on the glass surfaces without any problem.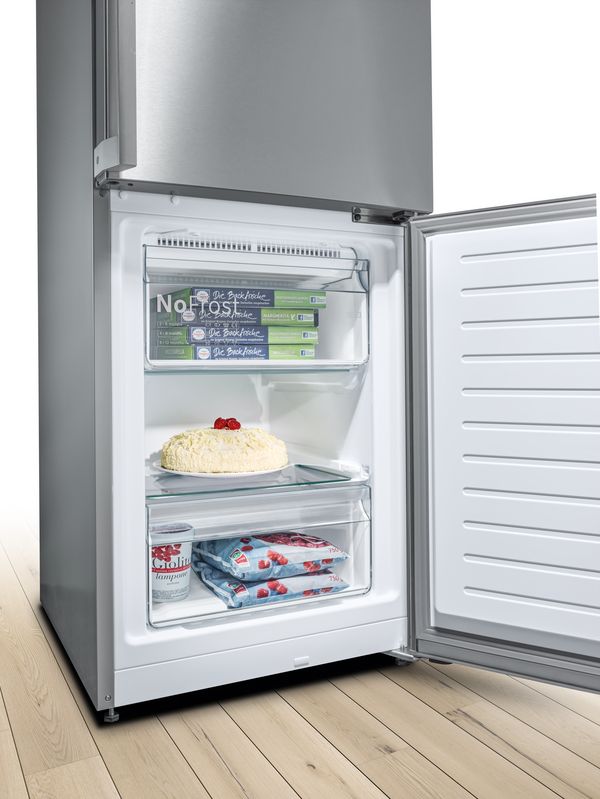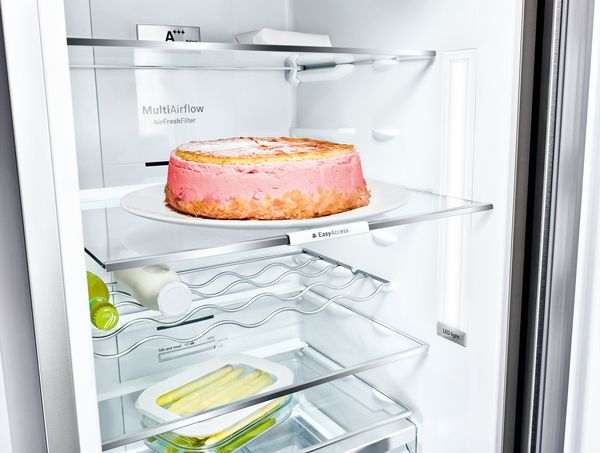 Pull-out shelf to have full access to any items.
The shatterproof, frameless glass shelves are particularly easy to use, thanks to the smooth pull-out mechanism. And they also give you a clear view of your food at any time – even the items at the very back are not forgotten.
The fridge that knows how to keep it's cool.
Activate the SuperCooling function before you go shopping to lower the temperature in your fridge for a short period, so your fresh shopping is kept at the right temperature. The temperature is lowered by pushing a button (2°C at the lowest). To prevent unnecessary power consumption, the function automatically switches back after approximately 6 hours.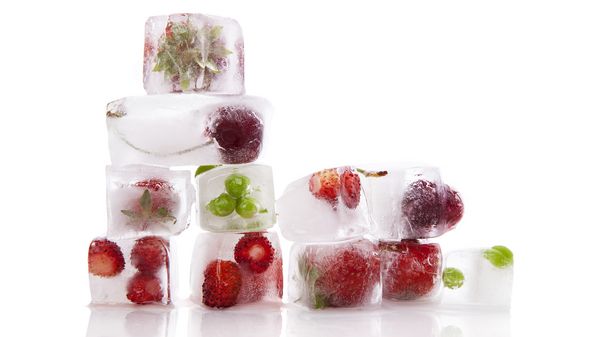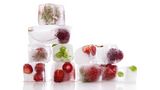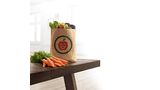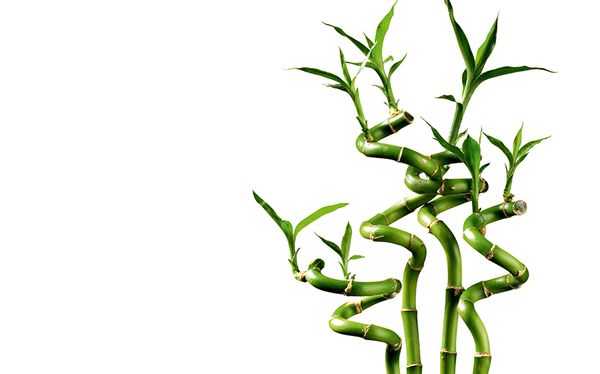 Energy Efficiency Class A++: 25% lower energy consumption than class A+ appliances.
Fridge-freezers in energy efficiency class A++ use 25% less energy than class A+ appliances that are comparable in size and equipment.
Egg rack
The egg rack keeps your eggs safe inside your fridge.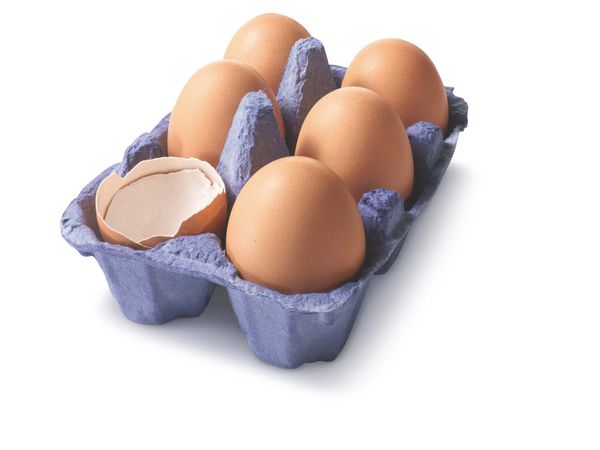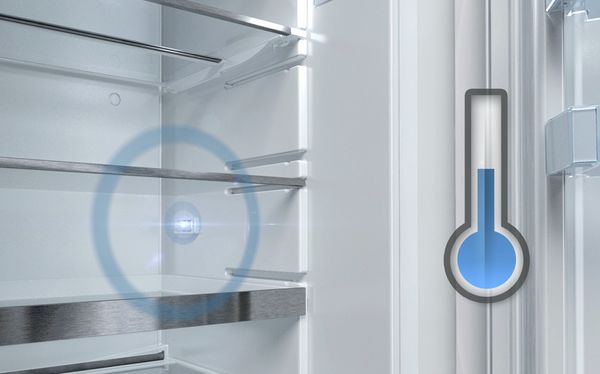 FreshSense
Thanks to the optimum storage conditions, your food preserves an ideal consistency; ice cream, for instance, is neither too soft nor too hard. A constant temperature in the fridge interior is a decisive factor in achieving more freshness and flavour. FreshSense sensors constantly monitor and control the ambient, fridge and freezer temperature. A constant temperature inside the fridge, independent of the outer temperature, is the result.
The fridge that regulates itself.
Uneven cooling in your freezer can greatly affect the flavour and longenvity of your food. Our fan-assisted MultiAirflow System causes gentle, even currents of cold air to emerge at all levels of the chilling and freezing area. Temperature fluctuations are minimised and cooling times reduced – which helps your foods retain their integrity for longer. Enjoy freshness from top to bottom.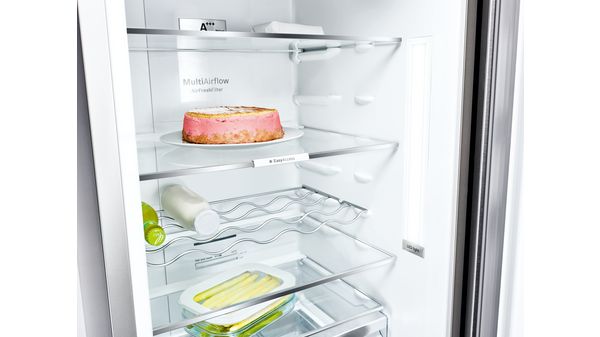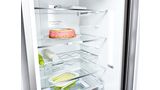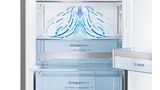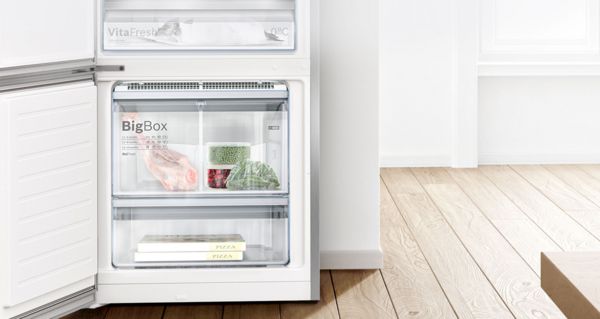 Protects frozen food from defrosting.
Adding new food to the freezer raises the internal temperature, which can result in defrosting and a loss of flavour. The SuperFreezing function ensures that new food is frozen quickly and thereby prevents the other content inside the freezer from defrosting. Appliances with an automatic freezing function return to normal operation once the required temperature is reached, in order not to waste energy. As a result, frozen food keeps its flavour, even when new food is being added.
Organized freezer drawers
An ingenious three-tier layered freezer drawer system creates extra storage for frozen items, from pizza boxes to frozen waffles. The new organized shelving system, paired with LED lighting, clearly displays all freezer items, so food doesn't get buried and forgotten.
Additional product information
Energy efficiency class: A++
Energy efficiency class: A++ (288 kWh per year). Actual energy consumption will depend on how the appliance is used and where it is located.
Total net capacity: 385 litres
Noise level dB(A) re 1 pW: 40
Doors Stainless steel look doors, side panels Pearl grey (VZF 07127)
vertical door handle
LED with Soft Start in fridge section
Frost free – never again defrosting
Twin in-door LED electronic control
Supercool function
Superfreeze Function
Optical and accoustic warning system
Net capacity refrigeration zone: 280 l
Multi Airflow-System
Air Fresh Filter
Net freezer capacity 105 litres
Freezing capacity: 15 kg in 24 hours
Storage time in power failure: 20 Hours
Dimensions: H 186 cm x L 70 cm x D 67 cm
Door right hinged, reversible
Height adjustable front feet, roles in the back
Climate Class SN-T
Connected load 100 W
Rated Voltage 220 – 240 V
3 x egg tray, 1 x ice cube tray with lid
Gross capacity, total: 415 l
Gross capacity cooling 287 l
**** freezer 128 l (-18°C and below)
Based on the results of the standard 25-hour test. Actual consumption depends on usage/position of the appliance.
Additional product information